Mass affluent consumers—those with an annual income of $100,000 or more after taxes—are a critical demographic for retail banks. To continue to meet their needs and grow potential new revenue, banks cannot rest on business-as-usual banking customer experiences.
A relationship hangs in the balance.
Results of Accenture's latest survey of 4,000 US and Canadian consumers reveal that as a group, mass affluent consumers want more—a lot more. Survey responses from more than 800 of them show that:
Customer satisfaction among mass affluent consumers is declining.
Only 29 percent of this group is "extremely satisfied" with their current bank. Not only is this 3 percentage points below the North American average, it  dropped 8 percentage points from the previous year.
Mass affluents were among the most likely to switch banks last year.
Switching among mass affluents exceeded the 11 percent North American average. Not only did 18 percent switch banks (second only to Millennials at 19 percent), this rate is up five percentage points in a year. No other group had such an increase. Thirty-four percent of mass affluent switchers would go to a bank without branches, compared to 24 percent in 2015.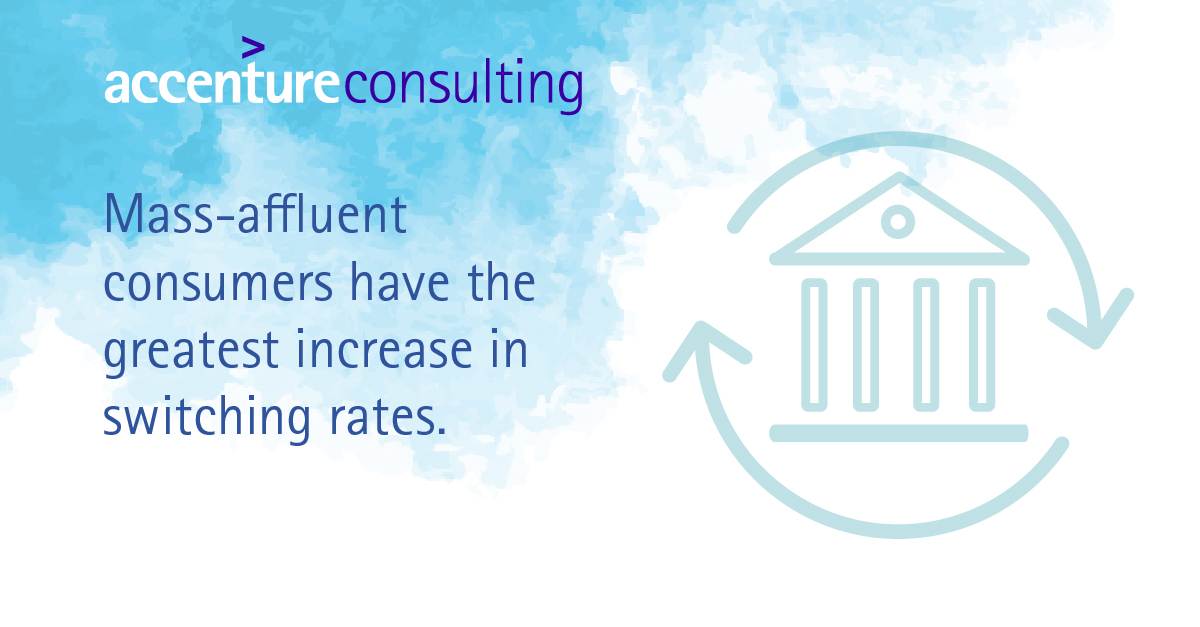 Seamless channel experiences are not a given for mass affluents.
Only 22 percent of mass affluent survey respondents agreed that their bank's channels are "completely seamless." This marked a steep decline from 31 percent in 2015 and is among the largest declines across all groups.
Mass affluents are open to alternative providers.
Mass affluent consumers are typically more willing to bank with alternative providers than their counterparts are. They are most interested in banking with payments providers, their insurance company and their mobile phone network provider respectively.
Challenge the comfort zone
The rate of change across these findings from 2015 to 2016 is remarkable—a warning sign about what's ahead if trends continue unchecked. The bottom line: Mass affluents' satisfaction is declining as switching and interest in alternative providers is growing.
This is a perfect storm that retail banks must address before they fall too far behind in delivering on customers' needs. No bank wants to play catch up with consumers who know what they want and will act with intention to get it.
The survey results reveal opportunities to protect against mass affluent churn:
Double down on digital. Mass affluents embrace digital banking at higher rates than others. They are more active online than the North American average. Consider too that nearly one-third have used video conferencing for banking—10 percent higher than the average.
Move on mobile. This group wants to use mobile banking in the future. For example, 25 percent think it is the most important customer channel for banks to invest in. And 56 percent think they will use mobile banking more frequently in the future.
Mend the seams. As banks evolve digital banking for mass affluents, they want to deliver consistent experiences across both digital and physical channels for frictionless banking customer experiences.
Dig deep on data. Data insight is the foundation of all these actions. Fortunately, mass affluents are much more willing than the average survey respondent to have their bank share personal data with other companies to develop relevant offers.
Mass affluent customers have evolved, influenced by a retail banking environment defined by choice, consumer empowerment and digital options. To keep up, banks must evolve too—and fast.
Learn more
Explore Accenture's 2016 North America Consumer Digital Banking Survey to learn more.