A few times a year, I work with my team at Accenture Research undertaking an extensive review of the financial services industry to identify key trends impacting the market and our clients. We explore trends that are ongoing (e.g., use of data analytics to facilitate customer segmentation and customer needs identification) and those that are new (e.g., blockchain).  We seek to identify the disrupters in the market – those players that have developed new products or services which are truly innovative, or new means of managing their operations that dramatically alter their cost base and open up new opportunities.
Over the past few years, the trends we have seen as having the greatest impact on the banking market are those driven by new technology. Big data, mobility, data analytics, NFC (near field communication), IoT (Internet of Things) and distributed ledger are all terms that we are increasingly becoming familiar with.  The underlying technology may facilitate better targeting of customers, new products and solutions, including "omni-channel" services.
Often, those banks that embraced technology were better equipped to serve customers in a cost effective manner, yet many banks are content to focus on achieving incremental improvements year on year (through maintenance enhancements and minor technical upgrades) while building their customer segmentation strategies. Where a few years ago, the players to beat were the banks that best understood customer needs, today the true disrupters may come from outside the banking industry.
Where eCommerce, the advent of Naspter and iTunes set in motion a revolution in the music industry, we see streaming and Netflix or Amazon Video changing the face of cable television, and Whatsapp slashing revenues in mobile messaging. Where would Uber be without the existence of smartphones? Yet this company, which launched its first app back in 2009, is now a transportation network spanning 400 cities in 68 countries worldwide, causing significant disruption to the traditional taxi industry in the process. In each case, an outsider dramatically changed the course of the industry through a better understanding of the opportunities presented by new technologies.
For banks to spot these potential industry disruptions, they need executive teams and boards who understand the implications of new technology developments both within and beyond the banking industry. Given the stakes involved and the nature of the banking business, you might expect that banks have this covered. A few months ago I set out with my team to test if this was true.
In order to ensure a company is fully aware of the potential opportunities or threats that technological innovations can bring, the board members need to have a real understanding of what is involved.  This knowledge could be gained through formal education, or more relevant in an ever changing world, through professional experience in technical roles or at tech savvy firms. To determine what percent of banks had tech experience and know-how on their boards, we analyzed the profiles of 1,925 board members at a panel of 109 the largest banks in the world. Our findings (which were among those presented at the recent World Economic Forum Annual Meeting in Davos), shocked me and highlighted the real threat that banks face today – on average only 6% of bank board members worldwide have technology experience.
While in some countries (notably the US and the UK) the figures were higher, the lack of technology experience at the board level highlights the issue faced by the banking industry globally in front of disruptions posed by tech-enabled solutions such as crowdfunding, P2P lending, and blockchain among others.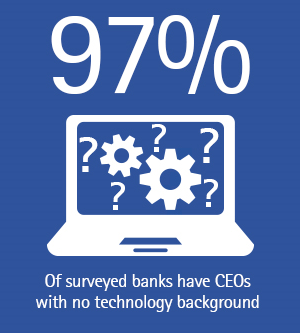 Without technology experience, bank boards risk missing the point, failing to see the opportunities and threats posed by new technical innovations, just as the music, cable, telecom and taxi industries did previously.
To learn more, see our detailed report: Bridging the technology gap in Financial Services Boardrooms