There is an old saying that nothing is given so freely as advice. Yet as ubiquitous as advice-giving is, today's banking customers say that they want more financial advice from their banks.
Accenture's 2014 North America Consumer Digital Banking Survey reveals a significant opportunity for banks to provide digital personalized financial advice tools to their customers. Our survey findings show that:
46 percent of customers say their bank should proactively analyze their spending and provide feedback.
48 percent of customers are interested in real-time spending analysis with forward-looking, safe-to-spend analysis.
51 percent of customers want their bank to recommend products or services that they might need, while considering which accounts they already have.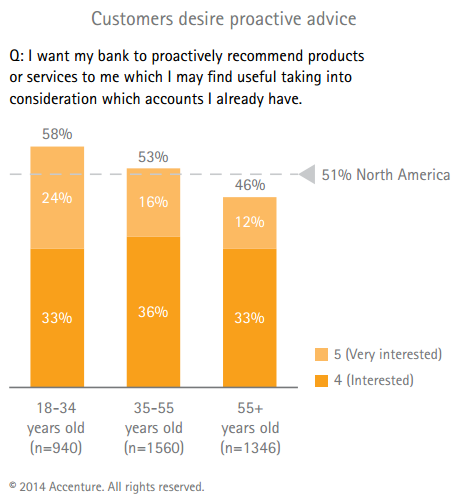 This data gets to the heart of how banks' relationships with customers must change in today's banking landscape—and as institutions evolve for success in the banking sector in 2020. Customers want relationships that are much more than transactional, which is how most categorize them today according to our survey.
When it comes to the kind of advice that customers want, we encourage banks to think more broadly than they ever have. Clearly, banks are well positioned to continue to provide traditional advisory functions around loans, mortgages or retirement planning.
The time has come, however, to remake this role to align banking business models with how people live. Banks have tremendous opportunities to become Everyday Banks—providing advice and services to fulfill their customers' financial and non-financial needs.
What's encouraging—and exciting—is that banks are ideally positioned to do this. They have access to customer data so that they can truly understand who their customers are and how they live. They can deliver customer experiences that combine the personal touch of the branch experience with the immediacy of digital banking. And they can orchestrate a digital ecosystem with the right partners to deliver on customers' needs.
Our survey findings show that customers would support banks extending their reach in this way—and many are hungry for it. The challenge now is for banks to define their own unique journeys to becoming Everyday Banks.