The challenges lenders face are numerous. And achieving sustainable profitability is difficult since customers are less loyal than in the past, regulation more stringent and the economic outlook still uncertain.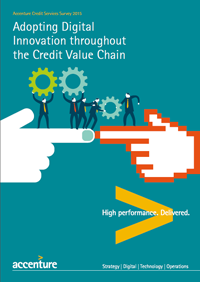 Operating in a low-growth market, lenders well know they need to improve their margin to stay competitive, preserve their revenue pool and restore profitability. As such, it is not surprising that respondents in the 2015 Accenture Credit Services Survey list cost reduction at the top of their agenda, together with a renewed focus on services quality
In this environment, digital technologies (mobile, big data, cloud and social media) can play a role as key differentiators in credit services.
As demonstrated by the growing momentum as alternative lending providers of innovative start-ups (eg: Kabbage and Lending Club), technology companies (eg: PayPal) and online retailers (eg: Amazon and Alibaba), combining digital technologies can enable innovative customer experiences and more efficient operating models.
Top lenders are already taking early steps to get closer to digital consumers and meet their borrowing needs. For example, some lenders now enable consumers to initiate mortgage applications online and through mobile, and others have adopted end-to-end loan processing platforms to reduce manual tasks, redundancy and time to offer. Nevertheless, very few lenders can call themselves totally digital: 75 percent of survey respondents say that only 30 percent of their lending processes are currently supported by digital technologies
To mine more value from credit and begin to restore profitability, lenders can explore the art of the possible with digital capabilities.
Analytics first
As lending is an information-driven business, better data means better risk taking. Still, traditional lenders do very little of the information gathering. When a customer applies for a credit product, their characteristics are put into a scoring system with a score produced by a credit bureau, and the system produces a decision.
Integrating the traditional credit scoring model with broader types of data, extracted by the right analytics tools, can help lenders better identify high- and low-risk borrowers and thus improve net interest income, anticipate non-performing loans (NPLs) formation and monitor riskier exposures.
The recovery factory
The bad credit cycle is far from over and NPLs may grow as a consequence of economic uncertainty. The impact on lenders' profitability is twofold: a net loss on loans not recovered, and an increase in costs, as managing NPLs is extremely time consuming due to the paper-intensive workflow and abundance of manual tasks. Combining advanced portfolio governance models, specific NPLs analytics tools supported web-enabled platforms lenders can discover the strategic relevance of high-value recovery, moving from a service-unit toward a business unit approach with specific profit and recovery targets.
Core credit re-platform
Lenders today have grown to have multiple systems to manage different channels and credit product requirements to meet evolving customer needs. The result has been a complex web of different offers, processes, data stores, systems and infrastructure, which affect the overall customer experience. Many banks are working on a new generation of core systems to develop lean, agile, smart and customer-focused operating models. This involves taking advantage of new architectures that allow for the industrialization of common business processes to be shared across the value chain, the virtualization of infrastructure and the adoption of software and business processes as a service.