Many long-time commercial bankers are getting the same feeling Dorothy had in the Wizard of Oz—that they're not in Kansas anymore. For example, extrapolation from publically available data suggests that in its quest to sign up new drivers, Uber may now be the largest originator of small-business checking accounts in the US. In Europe, regulatory initiatives like the second Payments Service Directive (PSD2) and the UK's Open Banking project are unbundling traditionally integrated banking value chains and inviting in all sorts of new competitors. While in China the booming shadow-banking and ecommerce sector has created giant unicorns like Ant Financial with a US$60 billion valuation[1]. With the current pace of change, I suspect BBVA CEO Francisco González's painting of an industry where "a big number of banks will disappear over the next five, ten years[2]" is looking more and more realistic.
So in this unfamiliar land of Oz, what can banks do to stay relevant? If no ruby slippers are available, there are three sets of priorities traditional retail and commercial banks should be addressing.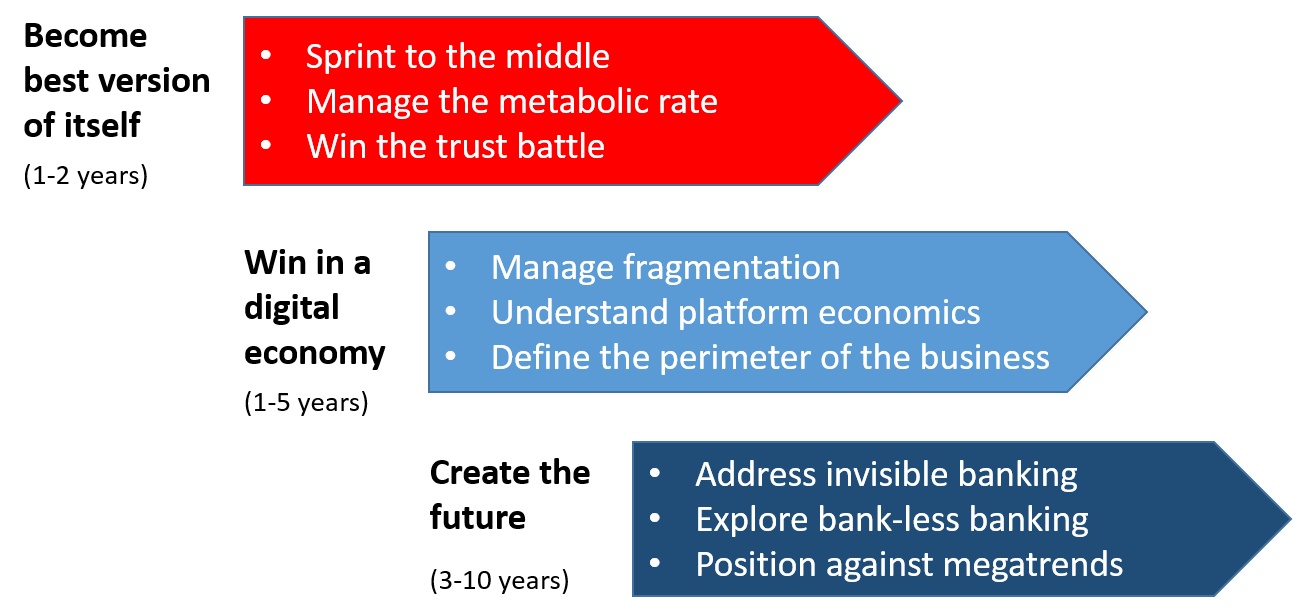 The first priority for banks is simply to become better versions of themselves. It's a near-term goal to keep customers, regulators and shareholders happy by blending the old with the new within the constraints of current business models. It means building on banks' existing strengths to sprint to the middle: Be digital first and then add elements of the old business model as needed to create the right mix of physical and digital channels, where the agility and economics of the new model dominates. Doing so requires a culture that can win the trust battle (both looking after customers' money and providing good advice), and an efficient technology stack that can adapt to changing customer needs and behaviors.
The second priority is to decide where and how to compete. Banks must understand the implications of digital platform economics—for example, Accenture estimates that PSD2 compliance alone will shrink European banks' payment revenue pools by about 40 percent—and consider a range of cheaper, easier-to-execute models. Some may become the curator and trusted guide for customer journeys that involve more than just banking. Some will be an enabler and may disappear behind the curtain, like the infamous Wizard of Oz. Still others will be both, owning the balance sheet and being the face to the customer while everything in between is purchased as cloud-based services from other providers who can create synthetic scale benefits. At the extreme, banks might just rent their balance sheet and core transactional services in a utility model—one that is long-established for some wealth managers, and one that some Fintechs operate under now.
It's easy for bankers to fixate on the threats to the traditional industry, but they also need to carve out time to create the future. So the third priority is strategizing today for longer-term scenarios. An example is invisible banking, where customers no longer need to step outside of a transaction to access the banking system. They never have to visit a branch, take money out of an ATM or even take a credit card out of their pocket. Banking, then, becomes pure credit extension and advice, as all the other transactions disappear from customers' view. So banks will need to exploit new trends in their fight to remain salient. Driverless cars, for example, may cause consumer auto loans to vanish as an asset class, but the capital need will still exist, just in an aircraft-leasing type model. As bank leaders optimize their existing businesses and adapt to the digital economy, they will need to figure out where the world is going at a big-picture level and attempt to capitalize on opportunities that those changes will create.
While it may be disconcerting for some, the banking industry isn't going back to Kansas. Instead it will need to learn how to thrive in the Technicolor world of Oz. I invite you to join this dialogue on the future of banking, and welcome your comments.
[1] http://www.wsj.com/articles/alibaba-affiliate-ant-financial-raises-4-5-billion-in-largest-private-tech-funding-round-globally-1461642246
[2] http://www.cnbc.com/2016/01/22/bankings-uber-moment-is-a-big-threat.html