---
Understanding your customers is the foundation to a sustainable competitive advantage in banking. Organizations can no longer wait to embrace the power of analytics to gain data insights that, if effectively actioned, can bring revenue uplifts through the maximization of cross-selling opportunities and redesign of up-selling strategies.
I think digital banking can no longer be associated with ad-hoc initiatives that, most commonly, foster online or mobile usage from customers, or even with building a new app for commercial campaigns. It is a way to run an entire organization. This new model will touch product development, distribution, front- and back-office operations, marketing communication, thus influencing the entire customer experience.
As we move forward into 2016 and beyond, organizations can improve profitability through innovative loan origination processes and strategies, mobile solutions extended to the SME segment, increased fee-based services and M&A activity to handle increased costs and, ultimately but not less relevant, divestiture of non-core activities. Each of these areas can benefit from analytics: When analytics is properly used to derive relevant insights, organizations can make better decisions.
Despite an increasing number of marketing channels at our disposal, customers are becoming not only financially wiser, but also more and more technologically sophisticated, as well as free to choose a competitor bank. They expect a consistent and unified experience as they proceed with their buying and transactional processes, both on traditional channels or while navigating online. Institutions with the most seamless engagement will win the battle for customers, leveraging one-to-one targeted messaging based on the individual or, ideally, household needs.
Accenture has developed a framework that includes six key factors that allow banks to achieve breakthrough credit innovation in the years ahead:
Improving data quality
Reshaping customer experience
Streamlining instant loan processes
Boosting digital mortgages
Focusing on self-serve mode, and
Becoming aware of their ecosystem
Each of these factors can be intelligently supported by deploying analytics.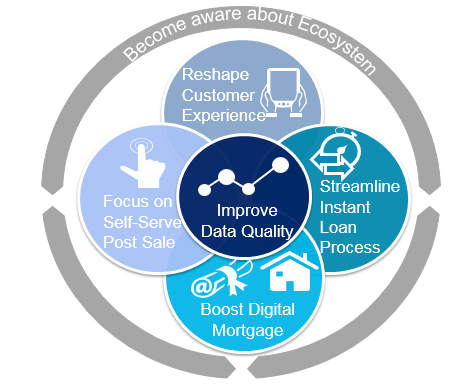 Stay tuned. In my coming blogs I will bring you through each of the key success factors.